Action-RPG/Adventure 2D iso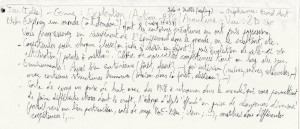 Very generic. I didn't write enough for it. Not sure what i had in mind exactly that i thought it was worth to note it. Maybe i just really wanted to do an hack and slash this day.
Here's a raw translation of the note attached:
Game (Idea) - Genre: Exploration / Action-RPG (HnS even? [by french definition]) / Adventure; Solo + Multi (scaling); Graphics: Pixel Art; View: 2D iso
Pitch: Explore a world (abandoned?) whose certain creatures took possesion. You progress by gathering equipment in the world, by crafting it, etc.
Skills for each class (or just a start choice?), then evolution of these via usage / points to invest? New skill choices throughout the game.
Environments: Outside (forest, desert?, ...) as well as inside (ruins, mines, catacombs, ...) with certain human structures (house in the forest, castle?, ...)
Kind of camp as a hub with NPCs to find in the world? who allow you to do different things like crafting, "offering" items exchange for various rewards? (portal toward a particular place, kind of PoE-like map, item, ...), masters in different skills?, ...