Battlemage Open-world 3D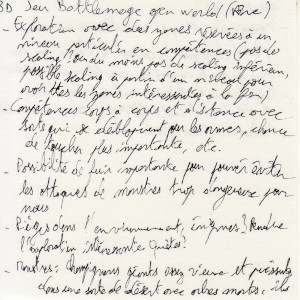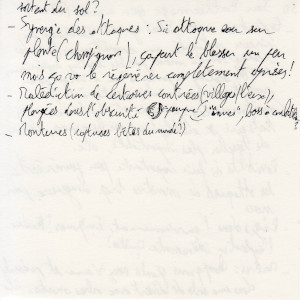 Reading it again, it feels like a mix-up of elements from games like Lichdom: Battlemage, Terraria, Okami and maybe Kingdoms of Amalur: Reckoning.
Here's a raw translation of the notes attached:
3D Battlemage open world game (dream)
Exploration with reserved areas to a specific skills level (no scaling? or at least no lower scaling, scaling possible at a certain level to have all the areas interesting at the end)
Melee and distance skills with spells which unlock for the weapons, higher chance to hit, etc.
Important possibility to flee to avoid attacks from monsters too dangerous for us
Traps in the environment, puzzles; Make the exploration interesting. Quests?
Monsters: Giant mushrooms quite old and powerful in a kind of desert with dead trees, they emerge from the soil?
Attacks synergy: If water attack on plant (mushroom), it can hurt it a bit but it'll regenerate completely after!
Curse of some regions (villages / places), plunged into darkness [some icon] <- purple () "souls", boss to fight?
Mounts (captured beasts from the world?)
Text in italic corresponds to a part i don't understand fully when reading it.